The complex rehabilitation professional day organized in Szombathely attracted more than 120 people
One of the basic ideas of the Szombathely2030 strategy is that the health industry can be the key to the city's future and economic development, in which, in addition to research and development, education is also an important element.
That is the reason why it is important for the city of Szombathely that the Faculty of Health Sciences of the University of Pécs has launched the master's program in complex rehabilitation as a novelty in this academic year, not only in the training center in Pécs, but also in Szombathely. Regarding this, the PTE Faculty of Health Sciences and the at.home demonstration, testing and development center held a professional day on February 7, with more than 120 participants.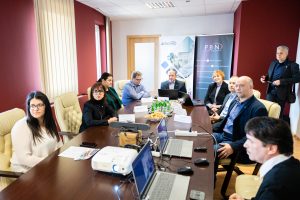 In the first block of the event, councilor Adrienn Bokányi explained how strengthening the health industry can serve the development of the city. In her presentation, she demonstrated how research and development, innovation and education services can become important elements of the healthcare sector. One of the stages of this will be the creation of an R+D center, the first step of which was the implementation of the at.home smart senior room.
After that, Gábor Király, 108-time national football goalkeeper, presented the specific therapies that are already being used in the rehabilitation of athletes in Szombathely, and Regina Rosta-Pethő, representing at.home, highlighted the elderly care aspects of rehabilitation. At the end of the plenary session, Prof. Dr. Ács Pongrác, dean of PTE, presented the advantages of the newly launched complex rehabilitation master's program for the participating students and for healthcare professionals.
The purpose of the conference, in addition to popularizing the master's degree, was to provide a framework with high-quality professional presentations to demonstrate how rehabilitation is connected to other health sciences, so in the second part of the professional day, we could hear presentations from PTE doctors and university professors, about the rehabilitation of trauma patients and people with osteoporosis, orthopedic patient care, and the importance of robotics and virtual reality in modern rehabilitation processes.