D9.4 Standardization and Concertation Activities Report – Year 1
D9.4 summarizes the results of the SmartWork actions within the WP9 task "Standardization & Concertation activities" (T9.3). This task (covering in total the first 36 months of the project duration) is led by CDC, with contributions of Byte, RtF-I, CAT, SPARKS and ECHAlliance. This document summarizes a set of guidelines for project work in the next two years regarding the main standardization priorities and concerns, as well as the concertation priorities, also presenting the accomplished meetings' results and overall related activities.
Publication date: 7 January 2020
---
D9.5 Communication & Dissemination Plan for Year 2
D9.5 is the Communication and Dissemination Plan for Year 2, is part of Work Package 9: Dissemination and Exploitation, led by ECHAlliance. WP9 runs horizontally across the SmartWork project lifetime and focuses on the dissemination and exploitation of SmartWork services and results during that time, as well as after the end of the funding period, which is crucial for the impact of the whole project. This deliverable is a follow-up to D9.1 Communication and Dissemination Plan for Year 1 and D9.2 Project Web Presence, which were delivered in April 2019.
Publication date: 31 December 2019
---
D2.6 First version of Elaboration of Intervention Strategies
D2.6 is the first version of the deliverable "Elaboration of Intervention strategies" of the SmartWork project. It is intended to specify 'High Level Requirements' to the SmartWork infrastructure and functionality in order to address users' demands as they have been established in WP2 by use cases, derived user needs and illustration of needs as expressed through four personas representing the target group of individual +55-year-old office workers.
Publication date: 31 December 2019
---
D3.1 Sensor Network Architecture and Specifications
D3.1 defines the high-level architecture of the SmartWork Unobtrusive Sensing Framework and is structured. This document consists of three core parts. The first part is providing an analysis of the various sensors needed in the SmartWork project (Section 3). In the second part (Section 4), we describe the setup of an initial Data Collection Cohort, in which sensor data samples are collected in a process internal to the SmartWork consortium. These two sections provide input to third and final part, the Sensing Architecture (Section 5) in which the high-level sensing framework architecture is defined.
Publication date: 8 November 2019
---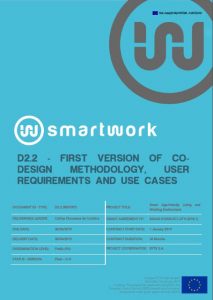 D2.2 First version of co-design methodology, user requirements and use cases
D2.2 describes the methodology for consultation with end-users on the SmartWork system. Users, in this case, are office workers aged 55+, employers and/or managers of older office workers and formal or informal caregivers, with a focus mainly on Portugal and Denmark. Using a combination of desk research, online questionnaires and interviews, four personas have been developed and their user stories have helped to define the functional requirements of the SmartWork system.
Publication date: 31 July 2019
---
D2.3 Data Collection Protocol
D2.3 establishes a preliminary protocol for the data collection phases within the life cycle of the project. In this document, the timing, content and data collection methods are defined, based on the information available at this stage of the project (M1-6). This protocol will be updated regularly based on project advancements and will be integrated into the Data Management Plan in WP9.
Publication date: 31 July 2019
---
D2.1 Analysis of current practices
D2.1 provides a review of the existing commercially available solutions and state-of-the art research methodologies associated with the multi-dimensional features of the SmartWork system. The analysis provides a baseline definition and benchmarking of all latest developments and advances in the areas of Unobtrusive Sensing and Low-Level Processing, Data-driven modelling and AI tools for decision support, Ubiquitous Workplace and Accessible Personalized Interaction Interfaces, Work Flexibility Tools and on-Demand Training.
Publication date: 21 May 2019
---
D9.1 Communication & Dissemination Plan
D9.1 provides a framework for communication and dissemination activities in the first year of the SmartWork project. It identifies the target audiences and the rationale for engagement with each group. It details a clear communication strategy along with the key messages for communication in Year 1. Moreover, the Plan identifies the range of communication tools and channels most appropriate to promote SmartWork at international, national, regional and local levels.
Publication date: 21 May 2019
---
D9.2 Project Web Presence
D9.2 accompanies the SmartWork website and provides an overview of its development, technical aspects and key features. It also includes a summary of the project's social media (covered in detail in D9.1), analytics and the SmartWork Visual Identity Manual.
Publication date: 21 May 2019
---