Hosted by ECHAlliance member and ecosystem SeAMK – Seinäjoki University of Applied Sciences, from 18 to 21 September, ECHAlliance Team members involved with the EU projects NOTRE and CONNECTINGHEALTH travelled to Seinäjoki, Finland for a joint partners' meeting.
On the one hand, NOTRE is an Interreg Europe project with the goal to improve development policies based on the example of innovations related to the care of the elderly. ECHAlliance's role in the project is to carry out training sessions on how to build an ecosystem and ECHAlliance member and ecosystem PBN from Hungary is the lead partner. On the other hand, CONNECTINGHEALTH is a 2-year preparatory action funded by Horizon Europe and it aims to foster interconnected inclusive innovation ecosystems across Europe and maximise the value of innovation in the sector of digital health. ECHAlliance is the lead partner.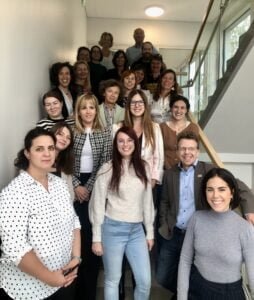 On 19 September, NOTRE project partners learnt about the status of the project activities and about the regional results obtained so far, including successful local stakeholders meetings carried out by the partners involved.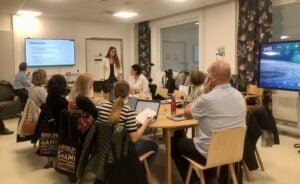 Also, ECHAlliance Communities Director Andy Bleaden led a training for the project partners on how to build a successful and sustainable ecosystem and to maintain the level of commitment. During the training, he highlighted that ecosystems should be multi-stakeholder and permanent and suggested pitch sessions as a way to attract SMEs and companies to join.
On 20 September, CONNECTINGHEALTH project partners met for the first time face to face. The day started with a study visits session of good practices together with NOTRE. We learnt about the work of Mediclaudo, a start-up that develops medicine distribution solutions for hospitals and nursing homes, and about the SeAMK Wellbeing Lab, the development and learning environment of the fields of health care and social work of SeAMK. We also discovered the SeiHow learning environment and tested some of its latest developments.
The afternoon was followed by a fruitful and successful CONNECTINGHEALTH project partners' meeting, where we discussed the current status of the project and next actions. In the coming months, we will be organising workshops to feed the development of the project's multi-year action plan, so stay tuned on CONNECTINGHEALTH's Linkedin and Twitter.
The meeting ended with all project partners recording a podcast for ECHAlliance's audience on the latest developments of the project. Listen to it here.